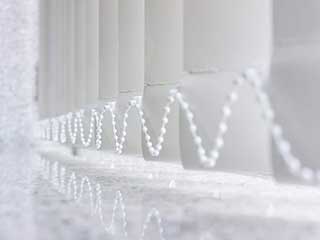 An incredibly popular choice of window covering for homes and offices, vertical blinds are very useful and attractive-looking treatments. You'll be amazed at the enormous range of different design options available to you, thanks to our in-depth creative process. This means that whether you're a Yorba Linda homeowner or you're fitting out an office, our custom vertical blinds can provide the ideal window covering.
Here's Why You Should Choose Vertical Coverings
It's often difficult to properly cover up a large window. This can be extremely annoying. How often have you sat in a meeting room, trying to shield your eyes from the dazzling sun that the blinds can't keep out? Whether it's at home or work, you don't want a room's occupants to be worried about glaring sunlight. That's why we offer a stunning selection of different materials, from sheer to blackout, so you can easily keep natural light at the ideal levels. Vertical blinds are well-suited to large windows because they're easy to adjust, and can be quickly swept across whenever necessary. This makes them the go-to window covering for homes and businesses all across Yorba Linda.
Vertical Blinds For Your Office Windows
Comfort is essential in any workplace because you want employees to be able to focus on the task at hand. Make your office a well-lit and productive space by choosing the right vertical blinds for your windows. Our range includes smart, modern designs that are sure to suit any workplace. Our prices are hard to beat, too. Find out just how little it could cost to improve your office by speaking to one of our representatives. We offer free quotes in Yorba Linda and the surrounding areas, so get in touch today.
Perfect For Sliding Screen Doors
Another common issue that homeowners often encounter is covering their sliding screen doors properly. These larger spaces are often tricky to adequately cover, so dazzling light often comes through into the home. Many times, homeowners will also complain of a lack of privacy. You don't just have to tolerate this. Our custom vertical blinds provide a fast, effective way to keep light to the right level at any time. Also, we offer a massive selection of materials to suit any decor, from wood to vinyl and fabric.
Add Décor & Utility
Often, patio glass doors create a clear opening that lets lots of natural light in. But they need appropriate covers to allow you to control how much light gets through and adjust it at different times. Well, vertical blinds do the best job of blocking sunlight with large screen doors, and drawing them is as easy and straightforward as with regular blinds and curtains. You can also get motorized vertical blinds to add to your convenience and high-tech feel. And don't forget about the available materials, ranging from faux wood to aluminum and vinyl.
Your New Vertical Blinds Are Waiting
We can create custom vertical blinds in any style you want. Our range is the perfect way to bring effective light control and privacy to any home or business. Why not get in touch with Yorba Linda Blinds & Shades today to schedule your free estimate?