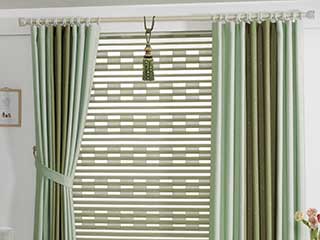 If you're a Yorba Linda home or business owner looking for discount curtains and draperies, you've come to the right place. Yorba Linda Blinds & Shades offers custom drapes and curtains at rock bottom prices anywhere in municipal limits. With expert installation services and free consultation, you can have professional help choosing exactly the window treatments for the job before placing the order.
Custom Curtains And Draperies In Yorba Linda
Every property requires different covers for its windows. Office curtains, living room drapes, and a set of blackout bedroom curtains and valences all come in a choice of materials, colors, and designs. Our craftsmen can work with a variety of fabrics, and the sky is the limit when it comes to colors, embroidery, and embellishments. Window and door frames of any size and dimensions are just fine. Standard windows, ceiling-to-floor openings, and long panel windows can all benefit from custom-fitted coverings.
Curtains Or Draperies – Which Are Better?
So, what is the difference between curtains and draperies? The two are similar, both hanging by hooks, fabric tubes, or rings from an overhead rod and covering the door or window. The first difference is that drapes are much thicker, blocking more light than curtains and forming more of a barrier. Drapes are always floor length, and often trail a foot or two across the floor at their hems. Curtains are usually only long enough to cover the aperture. Finally, curtains are only meant to slide back and forth along their rods, while draperies can also be pulled open and tied or hooked in place. Think about the light level you want, and the aesthetics of the room, before decided on drapes versus curtains.
How Much Sunlight?
With the right materials, you can get total light coverage even with thinner curtains. Blackout curtains, made of special, super-opaque fabric, block light like a solid wall while staying airy and comfortable looking. These are very popular choices for bedroom curtains, especially for bedside windows that don't have room for thick, heavy drapes. Leaving some open slits or strips of thinner and more transparent fabric can also help you adjust the lighting. For the most reliable light control, think about getting motorized curtains. Being able to set your curtains to open and close on their own at the appropriate times or in response to sunlight can save you a lot in air conditioning and furniture costs.
Don't Forget Motorized Curtains
The option to remote control your drapes is something you should definitely consider. Motorized draperies are perfect for all sorts of residential and commercial rooms. They're perfect for bedrooms, where you'll likely want to control the curtains without getting up from the bed. They also make for a great addition to office windows. Remote control motorized curtains in your office are bound to make quite an impression on customers. Their high-tech vibe says a lot of good things about their owner – i.e. YOU.
Custom Curtains Available Near Yorba Linda
Yorba Linda Blinds & Shades is waiting for you to give us a call and let us start making your new window coverings. Call today, and have your curtains or drapes fitted, made, and installed at your local address as soon as possible!