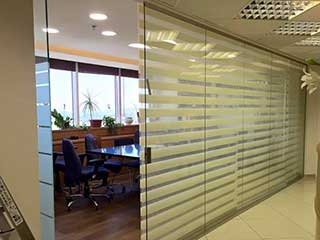 No matter what industry you're in, it's important to make sure your clients and employees are taken care of. Part of this stems from creating a welcoming and comfortable environment that promotes positive feelings and productivity. This is where window coverings come in. By choosing blinds or shades wisely, you can allow the right amount of natural light into your workspace, while filtering out harmful UV rays and reducing glare. You can also add to the room's insulation, helping to cut costs on your energy bill. As a result, employees and customers can conduct business in soft natural lighting. If, on the other hand, your business needs room darkening blinds for presentation rooms or privacy purposes, many of our solutions also allow for this function.
The Right Window Treatment For Your Business
Choosing the right blinds or shades for your needs can take some considerations, as some styles will align better with the decor of certain businesses establishments. Modern office spaces will probably want to go for a high tech feel, while restaurants and shops may look for a more elegant and eye-catching option. Layered shades, for example, have a clean and efficient look to them that makes them great for office buildings. Their easy adjustability and unique striped look create an aesthetically pleasing rolling motion that blends naturally into modern interior designs. If you're looking for something swankier and more captivating, perhaps pleated Roman shades are the answer. These coverings make for beautiful adornments and come in anything from sheer light filtering to room darkening and even blackout varieties.
Utilize The Latest Innovations
In addition to choosing design styles and different blind and shade types, you should also consider the method of operation. With motorized shades, you can enhance the look and feel of your business even further. Not only will your window coverings move automatically, their movement will have an efficient and also smooth quality that will reflect positively on your business. These sort of enhancements often contribute to people's impressions of your property. But that's without even discussing all the convenience and energy efficient benefits afforded to you by motorized blinds and shades. Easy control via remote handsets or smart devices (yes, even your phone), are just two of the options. With Somfy and Lutron control models, you can even use voice commands.
Make The Right Decision
Yorba Linda Blinds & Shades has a lineup of commercial blinds that possess a professional, sleek look and operate very easily. Our shading solutions are reasonably priced and our selection of custom made products has something for every budget. Understanding the needs of businesses when it comes to window treatments is our specialty. Give us a call or schedule a free consultation appointment with our online system and have an expert come and talk to you about a custom solution to meet your individual business's needs. From planning to installation, Yorba Linda Blinds & Shades has you covered. No pun intended.