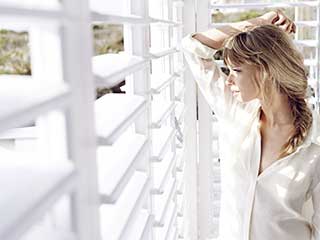 With so many external influences invading into our personal spaces, isn't it wonderful to be able to come home and shut the world out? Windows are an integral part of our homes. They let in light and give our house a bit of character, inside and out.
Decorative Blackout Blinds
One thing you don't want is dull, bare windows. At Yorba Linda Blinds & Shades, we have a great range of different blackout shades, blinds, and curtains to add some character to your home and offering you some much-needed privacy for when you want to shut the world out.
Shut Out With Shutters
Plantation shutters offer you a fresh, clean look for your windows. You can completely open them to reveal the outside world, or you can close them for total privacy. You can also decide how much light you want to let into your house which is a real bonus if you live in the Yorba Linda area. The summer sun can be brutal so you can use plantation shutters to your advantage and keep the sizzling sun and nosy neighbors from infiltrating your personal spaces.
Fabric Window Covers
When you think of blackout curtains, are you thinking of dark, dull colors? You don't have to go dark to get a little privacy or block out the sun. At Yorba Linda Blinds & Shades, we have a range of blackout curtains in bright, cheery colors. The trick is in the density of the fabric or the lining of these curtains that keep the sun from blinding you in your home. This same feature also keeps the interior of your home nice and private when you want a little bit of seclusion. If curtains aren't your thing, then look at the range of blackout blinds available. Both of these amazing window treatments keep the heat and curious eyes out of your sanctuary so you can relax in total bliss.
Privacy Blinds For Home or Office
It's hard to work with the sun blazing in your eyes and in Yorba Linda you can't avoid the glare, summer or winter. Vertical blinds are popular in office buildings for several reasons. They are easy to maintain and you can block out the sun and let everyone work. You can also close the blinds when you're having a meeting for complete privacy.
Vertical Blinds For Residential Use
Don't think of vertical blinds as an option only suitable for commercial buildings. They can look great in your home as well. If verticals are not your thing, you can go for something a little more home-style and install Roman shades. Both these window coverings offer privacy and protection from excessive sunlight.
Free Estimates on Blinds For Privacy
When you want a little extra privacy, call Yorba Linda Blinds & Shades for a full range of functional and beautiful options for your home or business. We specialize in providing the best blinds for privacy in the Yorba Linda area. Our custom blinds look great and they can match the rest of your décor. Look at our range today and let us take care of all your window treatments.