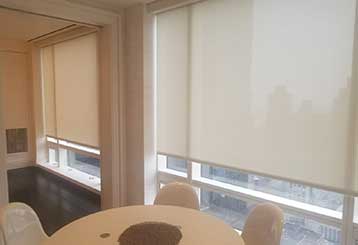 Solar Roller or Roman Shades are a great option for reducing the glare from the sun and protecting furniture from harmful UV rays. Here are some of the factors you should keep in mind before deciding to opt for these window coverings.
What Are Solar Shades?
Solar shades are usually made of woven polyester fabric that blocks excessive glare from entering the house, filters UV light and provides privacy while enabling a pleasant view of the outside. As there are many options available, choosing the right one for your needs depends on the direction the window is facing and on what features you consider important - filtering natural light, reducing the glare of the sunlight, reducing the heat in the room, or privacy. Their functionality is determined by the Openness Factor of the fabric, or the amount of open and/or closed space in the material (density of the weave) and its color.
The Pros Of Solar Shades
The main characteristic of the solar shades is their ability to reduce the sun glare by filtering the light while also providing privacy. This function alone helps to reduce the cost of energy in the summer, to protect the longevity of your furniture, and to make viewing electronic screens easier. In addition, filtering the UV lights means less damaging sunlight and healthier skin. The solar shades themselves are available in a large range of colors, shapes and designs, adjustable to any window.
The Cons Of Solar Shades
The main disadvantage of solar shades is the misconception of its characteristics. Although they are very effective in filtering UVs and light in general, these window treatments are not real "blackout" shades and should not be treated as such. They provide some daytime privacy but the interior of the house can still be roughly seen through them, especially when the lights are on. Moreover, because of the type of fabric used, they sometimes give the window a darker, less attractive look when seen from the outside.
Depending on your needs, solar shades can be a great addition to your home and more importantly, to your long-term health. Whatever your decision is, call our professional team which will gladly answer any questions or concerns you may have, and help you make an appropriate decision.