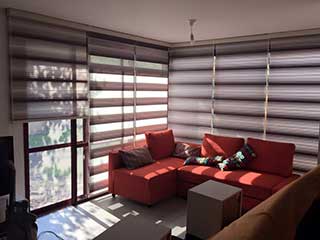 While there are seemingly endless possibilities when it comes to window coverings, this is a general inclusive title that can be broken down into a few main categories. Let's put drapes and curtains aside for a moment, for the purpose of this article. Instead, let's focus on the most common thing people think about when it comes to window treatments. Can you guess it? That's right. We're talking about blinds and shades. Although both have their enviable qualities, you must ultimately choose one over the other. Both types can make for great options so it can be difficult to make a decision. Below you'll find a breakdown of the main points to consider when choosing your new blinds or shades.
Natural Light Effects
Blinds are traditionally made with firmer materials with tactile, adjustable vanes that cover the entire length of the window. Shades, however, are typically made from a lighter material, such as fabric. Lifting and lowering them allows you to control natural lighting conditions. The adjustable slats of blinds allow for greater variety in terms of sunlight exposure, while shades often suit blackout requirements better. Some products, like sheer shades, for example, are a sort of combination of both types. They have a fabric backdrop layer, but also soft vanes that you can adjust.
A Matter of Privacy
Regular shades literally provide a solid layer of coverage to your window, making them the ultimate privacy screen. However, once they are lifted the outside world has a full view of your interior. Blinds allow the option to let natural light in without lifting the entire cover off the window. Their use of vanes provides a more privacy-friendly solution. On the other hand, the full layer of shades serves as a more decor-friendly option.
Effective Climate Control
Where you live can deeply impact your selection of blinds and shades. You may want your window coverings to protect your home from the elements in addition to diffuse sunlight and provide privacy. Whether you want darkening blinds to keep the heat out or sheer shades to let the warmth in depends on where you live and your personal preferences. You can also opt for cellular shades. These coverings have a honeycomb-like structure that allows them to create an insulating air barrier. These window treatments make for an excellent enhancement to the room's energy efficiency, both in summer and winter.
Suitable Décor Contributions
Style can be just as important as functionality. A traditional shade can add timeless elegance to the room, whereas a trendy blind can increase the contemporary look of your home. With the introduction of motorized window treatments, high tech designs have never been easier to achieve. The smoothness and silent operation of electric blinds and shades allows for a lot of variety and it's really hard to say if one type beats the other in this category. It really boils down to a matter of taste.
View to The Outdoors
If your kitchen faces a beautiful mountain range or your living room overlooks the coastline then you may want to consider choosing window coverings that least spoilt the view. Plenty of shades allow for an unobstructed view when fully opened. Blinds, however, always have at least a sliver of their vanes in the foreground.
Care and Maintenance For Window Coverings
If you don't have time to maintain and clean your blinds or shades then choose carefully based on the level of required upkeep you're comfortable with. Shades can be maintained with a quick run through of the vacuum cleaner, whereas blinds can sometimes become a tedious task of dusting each individual slat. The choice of material will determine how stain-resistant and durable the coverings will be.
Custom Made Blinds and Shades
Both shades and blinds can make for great investments, but you must first consider your personal lifestyle preferences before committing to one or the other. The best course of action is to have them custom made. This will ensure they meet all your needs and taste requirements. Yorba Linda Blinds & Shades can help answer any questions you may have when weighing your options. Schedule a free consultation today and don't forget to ask about our 5-year warranty.