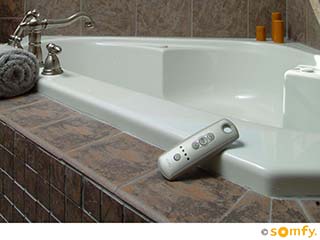 To truly benefit from the variety of efficient features motorized blinds offer, Somfy developed game-changing features for its control systems. With smart blinds, Somfy offers automatic window covering solutions that you can control in all sorts of ways and utilize various sensors and inputs from network devices in your home. This connectivity has made smart motorized Somfy blinds one of the best IoT features for smart home systems.
Quiet Blinds Motors – Quick Control
Somfy blinds employ top-quality motorization methods to provide a smooth operation from day one. With the silent motors, you can open or close motorized blinds even when most of your household is asleep, without hearing more than a quiet drone. The fast communication of wireless Somfy motorized blinds allows for immediate response to remotes. From the smartphone app to the network connectivity created by the Smart Home assistant, you provide the input and the blinds react.
Automatic Coverings For Yorba Linda Windows
To take things to the next level, Somfy blinds can utilize sensors to optimize performance in accordance with desired conditions. You can program your smart blinds to open and close according to the time of day, maximizing your use of natural sunlight. With sensors for temperature and brightness, the Somfy motorized window treatments can regulate themselves, responding to changing conditions to maintain indoor climate and levels of privacy and light. The utilization of automatic window blinds as a mainstay feature for smart homes provides a lot of convenience and creates a more complete experience as part of your day-to-day.
Get a Free Quote on Somfy Blinds Solutions
Learn more about why smart blinds motorized with advanced remote control systems make for the best shading solution for so many Yorba Linda area properties. From optimizing energy efficiency to helping control airflow, natural lighting, and climate. Motorized smart Somfy blinds give tremendous benefits, and with custom sizes and designs, you can enjoy them all in any room you choose. Call us and schedule your free consultation to see what Somfy motorized blinds best suit your taste!