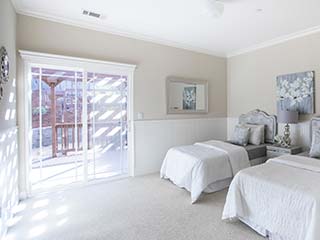 With wireless connections and smart sensors, motorized blinds have become incredibly popular. This is true for both homes and business spaces, as motorized window treatments offer more than just a cool high-tech shading solution. While they do sport a clean look and add to the décor, motorized window blinds have plenty to offer when it comes to utility too. With the use of Wi-Fi remotes, you can even turn your smartphone into your smart blinds control device.
Blackout Blinds Motorized
To achieve complete darkness, it's important the window blinds can block all sunlight. A huge advantage motorized blackout blinds provide is the ability to darken the room from anywhere. If you're already in bed, you won't have to get out to manually lower them. Motorized blackout blinds will plunge your Yorba Linda bedroom into darkness with the push of a button on the remote. And if you've chosen smart Somfy blinds or other Wi-Fi-connected options, you can use your phone or even voice commands.
Smart Blinds Solutions
With the innovation of wireless connections growing, motorized blinds were one of the first to see advancement. With these smart motorized blinds, you don't even have to use a remote. You can run these motorized window treatments on a schedule, either through their own controls or by connecting them to the smart home system. Either way, it's easy to just have the motorized blinds open up or close whenever you want them to, letting you even using them as your natural alarm clock that doesn't make startling sounds. These scheduled settings help you keep indoor climate optimize too, as well as utilize natural lighting throughout the day for better energy efficiency.
Motorized Window Blinds – Yorba Linda Area Installers
With different designs and all sorts of smart blinds remote control features, you have all sorts of viable options. So how do you know what to choose and what's the best for your needs and budget? You consult with the experts, of course! Talk to nearby Yorba Linda motorized blinds professionals at no cost and see what shading solutions offer you the best bang for your buck. Get in touch with us to schedule a free estimate appointment at your home or office.