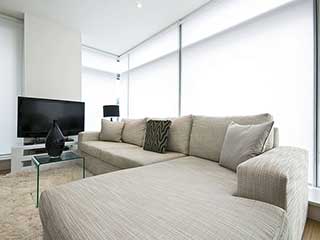 Convenience, elegance, and style in one package! That's what motorized shades have to offer. With their ease of use and the variety of control methods, you'll wonder why you haven't gotten them installed sooner. While in the past only a few types of shades could utilize this innovation, today that's no longer the case. Practically every type of window covering, from skylight shades to vinyl and wood blinds, can be motorized. This makes custom made motorized shades an excellent way to improve a room's decor and convenience simultaneously.
Make Your Windows Look Great
Let's take roller shades as an example. These coverings will give your home a minimalistic, yet sophisticated look. They come in a variety of options: you can choose the color that matches the rest of your furniture or goes well with the color of your walls. Or, you can shake things up a bit and decide to install those with a pattern or an imprint. Now add the motorized option. The custom made roller shades you choose don't just look great, they move smoothly and silently, lending the room a high tech vibe in addition to a beautiful decor contribution.
As Easy as Pushing a Button
Motorized shades can fit anywhere in your home or business. They can be as big or as small as you need, and have various potential power sources. Large sets will probably work best with a hardwired connection, while smaller sets can be battery powered. Motorized Shades are especially popular with people with children and pets, as there are no dangling cords to pose a choking hazard. There's no need for you to get up and manually adjust the shades to get the right amount of light into the room you're in. By utilizing the control and motor models of major brands like Lutron and Somfy, Yorba Linda Blinds & Shades can have you controlling your new motorized window coverings with a wall-switch, a remote, or your smartphone. That's not all. You also have the option to opt for smart blinds and shades that you can control by issuing voice commands.
Boost the Thermal Insulation of Your Home
Let's put motorization aside for a moment. Not only will covering your windows with custom made shades give your home a new look, it will also decrease your energy bills. Shades are useful all year round. They can stop heat from escaping during cold winter months and keep sun rays at bay in the summer. This means that your HVAC system won't have to work as hard for extended periods of time in order to maintain the desired temperature. Furthermore, it will be less prone to failure. With motorization and automation, your shades can open and close at set times during the day, allowing you to maximize natural lighting and thermal efficiency. You also have the option to go with self-adjusting shades, that measure brightness and temperature levels and correct their position accordingly.
Make a Move
Give your home or office windows the upgrade they deserve and makes your life a lot simpler. All you need to do is contact Yorba Linda Blinds & Shades and make an appointment for a free consultation. Let us introuce you to the wonderful and innovative world of motorized window treatments.