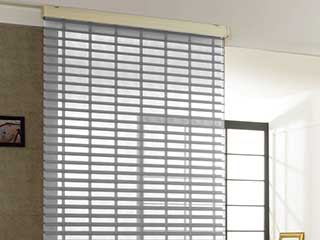 Sheerness is a quality that most types of window coverings need to possess. Apart from contributing to the room's decor, the shades need to also diffuse sunlight. But they also need to provide a sense of privacy, as well as protect the room's interior from the dangers of UV radiation. We all love the warmth of the sun's gentle rays. However, prolonged exposure to direct sunlight can have adverse health effects. Some window treatments can offer a happy medium between these three requirements. With sheer shades, you're able to maximize all of the benefits with virtually no downsides.
What's So Special About Sheer Shades?
Sheer shades can create a luminous glow while also providing privacy and UV protection when used to cover your windows. They feature soft, translucent slats of fabric that are suspended horizontally between two layers of fabric. When these window shades are lowered, the inside slats or vanes can be tilted at any angle from fully closed to fully open. When raised, the fabric is concealed within the headrail, offering an unobstructed view of the outside world. This versatility allows for easy switching between full brightness to room darkening privacy at will. With the introduction of motorization, you can have the shades open and close automatically whenever you want.
Excellent UV Protection
Sheer shades do more than offer optimal privacy when closed. They also come in light-dimming and room darkening fabrics, which block out most of the incoming sunlight. They also offer protection against the sun's harmful UV rays. This protection can reach near 100% when the shades and their vanes close fully. Even when opened, the sheer fabric backdrop can filter about 88% of UV rays. This allows you to illuminate the room with diffused sunlight that won't damage furniture and your eyes.
Sheer Elegance and Utility
Let's be honest, there's another major factor that contributes to the popularity of sheer shades. Their formal elegance makes them incredibly popular for dining rooms and bedrooms. If this kind of formality doesn't work with your casual or modern decor, then fear not. Custom made sheer shades can be made with more casual fabrics. Yorba Linda Blinds & Shades provides a wide range of choices, including a variety of colors, materials, and patterns. Contact us today to set up a free consultation at your home or business.