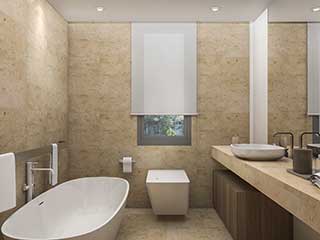 Roller shades are a type of window covering that, as the name suggests, features a rolling contraption. The upper section of the shade sits at the topmost part of the window. The vinyl or cloth fabric is fastened to the shade's top and bottom bars. This is essentially a type of drape stretched over a frame that allows for its easy mobility. You have your choice of fabrics, ranging from light filtering to room darkening. Your privacy needs will determine which is the best choice. The room's existing decor will also factor in. You'll want to choose a color and design that complements it.
How They Work
In most standard models, the window shade rolls down from the back of the roller, close to the glass. However, there are also reverse roller shades. With them, the fabric rolls out from the front, creating a sleek visual look. Typically, it only takes a small tug for the rolling instrument to raise the shade all the way up, revealing an unobstructed view of the outside. If you pull the cover down, you have the ability to stop it half way, which will then give you a limited view of the outside. You can also pull it down all the way to close it completely.
Why Choose Roller Shades?
Roller shades are often sought out for their simple, sleek and contemporary design. You can add them behind draperies for extra privacy as well as for enhanced decor. For an elegant look, fringed and scalloped borders can be added to the bottom of these blinds, with a pull made from a tassel. Many roller shades have a "cassette head." This is a roll at the top of the shade where the fabric or synthetic material is visible, making the entire cover look cleaner. To really add an extra touch of elegance, you can also get a valance to cover the top bar of the shade.
Custom Made Roller Shade Options
Yorba Linda Blinds & Shades is proud to offer a number of roller-style coverings with plenty of upgrades to suit your home decor needs. Our custom made products come with a warranty, so you can count on them to last a long time. Contact us for a free consultation at your home.