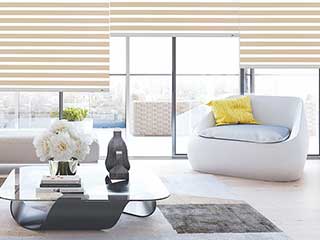 Light control is an important factor, and usually the main consideration, with design style as a close second. With layered shades, you're able to get both aspects covered (no pun intended). Their unique structure allows them to easily switch from room darkening to light filtering positions, making them very suitable to a wide range of rooms.
The Unique Build
Layered shades use the elegance of soft fabric to create a striped look using exterior sunlight. They consist of two different layers of fabric moving on a continuous loop. Each side has sheer and opaque slats, one set to allow light in, one set to block it out. When they move on the loop, the opaque slats on one side move to cover the sheer ones on the other side, or for both types to sit parallel to each other. This allows layered shades to either let sunlight in or block it completely. The choice is up to you.
UV Protection and Privacy
Even when the sheer shades aren't blocked by their opaque counterparts, you're still afforded a degree of protection from UV light, which changes according to the fabric used. The same goes for privacy and glare reduction. Certain types of sheer materials will do a better job at that than others. That's why making sure your new layered shades are custom made is important.
Beautiful Look and Feel
Apart from providing all of the above, layered shades are also great for their unique style. They make for a great way to add to the room's design with an eye-catching striped pattern that can exhibit a range of different colors and patterns.
Layered Shades From High Quality Fabrics
Yorba Linda Blinds & Shades offers a wide selection of products, certainly, but even after you choose to go with layered shades for your home or office window, there's still plenty of customization options. From material to color and texture, to even operation methods, i.e. manual or motorized. Your new custom made layered shades can look and work exactly how you want them to. Just give us a call, schedule a free consultation, and tell us exactly what you're looking for.