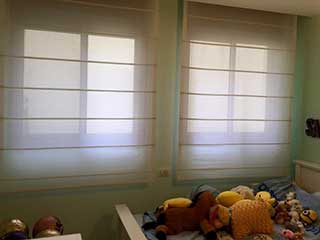 Our Company Is Here For You
Finding the right set of window treatments for your needs is important, not just for reducing glare, improving insulation, and protecting furniture, but for the look of your home too! That's why our professionals are here to lend you a hand and ensure that you'll find exactly what you're looking for. With a deep knowledge from long time experience, paired with the widest selection of products available, you'll be surprised at how easy it is to discover the window coverings of your dreams! It'll be done before you know it, and come with warranties than range from five years to a lifetime. It's why we're considered the best team in Los Angeles!
Friendly Experts, Ready To Go
Our team more than understands wanting to take the time needed to find that exact right style, but also having a busy schedule to tend to! This is why we offer free consultation and color sampling so you'll be sure to find the perfect match while not wasting any time on selections that aren't right for the space. It'll be a breeze to find that beautiful shade of blue to match the bathroom, or green for the kitchen. You'll have gorgeous new window coverings before you know it with help from our professionals!
Countless Styles To Choose From
The right type of blinds or shades in an area can really make all the difference, and Yorba Linda Blinds & Shades is here to assist you in figuring out which style would be best suited for your needs. If you're looking for something simple and affordable for your business, we have aluminum blinds that will get the job done. Want a way to allow natural light into your home while still protecting the furniture? Solar shades are a great pick! All of these ideas and much more are available thanks to our team of experts whose first priority is ensuring that you're completely satisfied with your selection!
Get An Appointment Scheduled Today!

Affordably Priced Options

Services You Can Rely On

10+ Years Of Experience

Excellent Quality Products and Selection