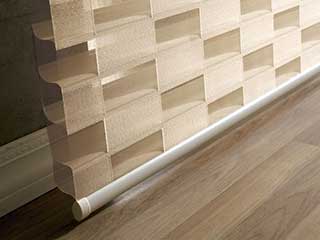 If you want to improve the interior decor of your home, one of the quickest ways to do this is to decorate your windows. Nowadays, there are countless window covering options available to suit any taste. That means you'll have no trouble finding shades that will reflect your personal style. To get you started, here are some of the biggest window treatment design trends of this year.
From Fashion Runways to Windows
Blind and shade manufacturers have taken inspiration from the fashion runways by launching products in the latest on-trend colors. Yellows, greens, and blues are particularly popular and can make for an attractive window feature in any room. Blinds in jewel tones such as amber, amethyst, emerald, and turquoise can provide an elegant and understated look. If, however, you're seeking something bolder, go for bright pinks or purples. Metallics are also hot, so try custom blinds in brushed aluminum, or fabric shades with gold, silver, or brassy accents for a modern and edgy look.
Shades That Let You Play With Light
Sheer fabrics continue to be popular window coverings because of their ability to let natural light filter into a room. This allows for both privacy and natural lighting simultaneously, with some important UV protection to boot. Many homeowners often choose neutral tones for their window shades. One recent trend urges homeowners to consider trying colored fabrics to add even more warmth to their interiors. Alternatively, mixing sheer with darker fabrics in the same color shade creates a striking look. It also allows you to get the best of both worlds by allowing you to control sunlight while maintaining some privacy. Layered shades are a great way to achieve this look.
Be Inspired By Prints
Look for blinds with a Mediterranean, Moroccan, or Persian-inspired print to add an exotic touch to the room. Floral patterns and paisley prints can be a great complement to more traditional furnishings. You can also consider custom made roller shades that feature a repeating polka dot, a checkered or zigzag geometric motif for a more contemporary feel.
Eco-friendly Materials
Sustainability is a big focus area in the window treatments industry. Many homeowners look for solutions that limit heat loss by offering better insulation. For example, cellular shades provide more than just enhanced energy efficeincy. They make for an ideal fusion of function and aesthetics, available in a range of colors, designs, and fabric choices. The materials that modern blinds and shades are made of also lean more towards the eco-friendly. You have natural and organic materials such as bamboo, woven woods, and grasses being popular options for all sorts of blinds and shades.
If custom made window treatments pique your interest, contact Yorba Linda Blinds & Shades to set up a free consultation appointment.