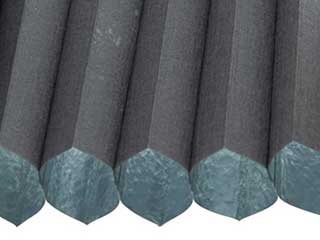 Cellular shades are a type of window coverings that usually consists of pleated fabric layers that form honeycomb-shaped cells. The cells come in different size layers for different degrees of energy efficiency. They also come in a variety of light-filtering or room darkening fabrics. That means they're capable of providing privacy, and light control in addition to extra thermal insulation.
The Advantages of Cellular Shades
One of the main functions of cellular shades that appeals to customers is their ability to keep rooms warm in the winter and cool in the summer. As hot air tries to pass through the shades, whether from inside the room to the outside or vice versa, the cells trap it. Not all of it, naturally, but a significant chunk. This provides insulation and reduces heat transfer, making it easier for you to maintain a desired indoor temperature. The result is saving people money on their energy bills. In the winter, it is ideal to raise the shades every day. This allows the air to circulate and helps in preventing ice from building up on the windows. When raised, the coverings are compact, giving you a clear view of the outside world.
Noise Reduction and Light Filtering Options
In addition to enhancing the room's energy efficiency, cellular shades also create a sound barrier. This buffer will reduce the intrusion of outside noise. If you live or work near a busy street, for example, but you still want to enjoy natural lighting, then these window coverings make for an excellent solution. With sheer cellular shades, you'll benefit from glare reduction without creating a blackout effect when the shades fully close. Of course, if it's a room darkening effect you want your custom made cellular shades to achieve, that option is readily available as well.
Great Shades For a Variety Of Windows
Cellular shades can be raised or lowered either with a cord or by hand, all depending on your preference. Cordless blinds and shades are optimal for nurseries, as the cords can present a danger to young children. Of course, nothing's safer in that regard than motorized shades, which you can control with a remote, your smartphone, or the power of your voice (voice commands via Alexa, Google Home, and other virtual assistants). Whether you want the standard look or a top down-bottom up set up, Yorba Linda Blinds & Shades has got you covered. Contact us today for a free consultation at your home or office, and don't forget to ask about our 5-year warranty!