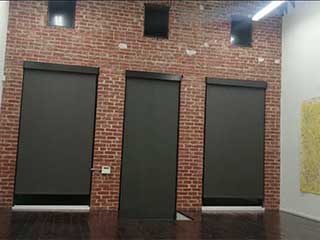 Sometimes, you need to keep a room free of all sunlight, but you don't want to give it claustrophobic window shutters. Blackout blinds, which can swivel or slide to admit as much or as little sunlight as you want, are the best answer. Yorba Linda Blinds & Shades's products include a variety of blackout blinds for windows of all kinds!
What Are Blackout Blinds?
Unlike basic blinds or shades, blackout blinds use a thick, light-blocking fabric backed with a layer of pliable foam. This structure lets them block out every last bit of sunlight while still looking and feeling like any other fabric. The name is something of a misnomer: blackout blinds can come in any color, including pure white! You can have a custom set of any color made and installed at any address in Yorba Linda.
Blackout Bedroom Blinds
Bedrooms benefit the most from blackout blinds. Sunlight, streetlights, and Yorba Linda traffic can all wake you up early or keep you from getting to sleep. Bedrooms are also full of sensitive furniture and blankets that don't deal well with direct sunlight. Since comfort and pleasantness is a top priority for your bedroom, you may want to invest in something more decorative than standard hanging blinds. Yorba Linda Blinds & Shades offers several advanced blackout blinds options for such cases.
Roman Style Blackout Shades
If you want blackout blinds for bedrooms or living room windows, consider getting a Roman shade style. Unlike your basic hanging curtains or roller shades, Roman shades fold up into a set of elegant pleats at the top of the window and unfold likewise. Roman shades are some of the most aesthetic window treatments out there, and blackout fabric works well in their design, making them totally light protective. Add a set of valences or curtains over them, and your blackout Roman shade style blinds can be the centerpiece of the room. Any Yorba Linda home or business can benefit from the décor and utility of blackout Roman shades.
Vertical Blackout Blinds
If you have a long, narrow window, you might want to get vertical blinds. Blackout office window or kitchen window blinds in particular often work better in this sideways-opening style. The blackout fabric covers a set of rigid, vertical slats that move right and left along a set of rollers. When opened all the way, they collapse into a flat stack at one edge of the window frame or retreat into the wall. Like most blinds, they can also be rotated in place to let in as much or as little sunlight as you desire.
Motorized Blackout Blinds
It's the twenty-first century already, so why not get motorized blinds? When you can set your blackout blinds to move at regular hours, you'll never have to worry about forgetting to close them again. Aside from the convenience, this can save you money over time in obviated heating and air conditioning bills, damage to wallpaper and furniture, and theft. With the addition of a sunlight sensor, you can even make a "smart" blinds system that will open and close itself in response to the environment.
The Best Blackout Blinds In Yorba Linda
Covering bedroom windows requires getting the best level of privacy. You can get blackout blinds at the best rates in Yorba Linda by calling us for a free quote and consultation. Choose the design, material, and style best suited to your décor and budget.