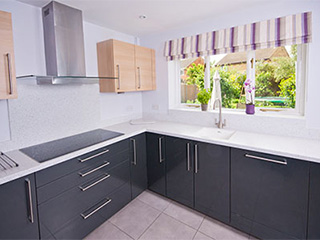 Drapes and curtains have a certain style to them that contributes to the room's elegance. With Roman shades, you get a combination of this stylistic aspect, with effective light filtering and room darkening options thrown in the mix. Cover your windows with these unique and beautiful shades and see how elegant and cozy they make the room look and feel.
If It Worked For Ceaser...
The titular name of these shades goes back to ancient times when famous and infamous emperors ruled the known world. The neat way Roman shades fold and unfold into slats when opening and closing lends them an eye-catching appeal. Even when stored partly or fully up, the folded structure looks aesthetically pleasing and will still contribute to the room's decor. This unique covering option lasted throughout the years for good reason, and as soon as you have them you'll understand why.
Bring the Modern Look to Any Room
Roman shades come with the fabric attached to the front of the headrail, eliminating the need for a valance. You can still have one, of course, if you want. Roman shades also offer a top-down, bottom-up option, which means the shades can be raised or lowered from either direction, giving you added privacy. This option can result in a small light gap at the top of the shade, so many customers choose an extra-large valance or hanging pleats when purchasing shades with this feature. All Roman shades come with a light filtering liner. But for those who need more light control, room darkening and thermal liners are also available. The diverse selection of choices available when contemplating these sorts of coverings makes for a wide pool of options.
Custom Made Shades That Meet Your Needs
Roman shades can bring a stylish modern look to your home or business without blowing your budget. They work well in any room and are available in a wide range of colors and designs that will add a stylish touch to any decor. Our available fabric options include cotton, silk, satin, and even tweed. You can customize roman shades to fit almost any window using an inside or outside mount, and you can choose from corded or cordless options. Contact Yorba Linda Blinds & Shades to set up a free consultation appointment with one of our experts.