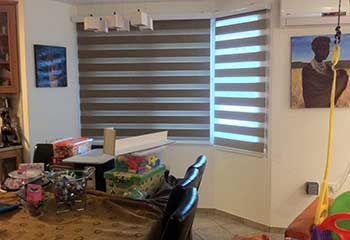 Layered Shades
Customer Issue: What Mr. Rundston was looking for were shades that could easily switch from light filtering to room darkening, while also giving the room an aesthetic décor contribution.
Our Solution: Mr. Rundson considered several different options during the consultation stage, until finally, with our expert's recommendation, he decided to go for layered shades with a striped dark and light blue look, which our team proceeded to craft according to his window measurements.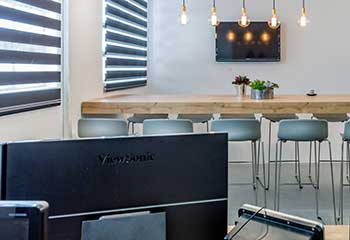 Motorized Roller Shades
Customer Issue: The customer wanted motorized shades that had a neat and clean look to bring a high tech feel to his office windows.
Our Solution: Our team met with Mr. Calhan at his office in order to measure his windows and consult him on the various types of coverings that would suit his taste. His choice was to go with semi-sheer roller shades with a blue-ish tinge to them, and to have a smart motor that he could operate with his phone. Our team returned with the custom made shades, installed them, and then made sure the system was fully compatible with Mr. Calhan's smartphone.
Vinyl Blinds
Customer Issue: This customer, Mrs. Guerl, wanted a new set of blinds that wouldn't require special maintenance but will still look great.
Our Solution: After sending an expert over to Mrs. Guerl's home and discussing all the different options with her, she chose a set of tan-colored vinyl blinds to be installed on her home office windows. Our team crafted the window treatments to match the required measurements, and then returned to the customer's home and installed them for her, making sure they were working smoothly afterward.
Patricia Guerl
- Yorba Linda